Acne Treatment Albuquerque
A disease of the sebaceous glands of your skin, Acne is a major problem for people from ages 10 through 40. Women, particularly those who are in their mid-to- late 20's are also prone to develop acne even if they have had very few breakouts in the past. Increased sebum production, clogged pores and the presence of bacteria cause inflammation or thickening of the lining of the follicle. This, in turn, causes different levels of acne, which include:
mild acne such as blackheads and whiteheads
semi-severe acne like inflammatory papules and pustules
severe acne including nodules and cysts
The last type can even lead to acne scarring.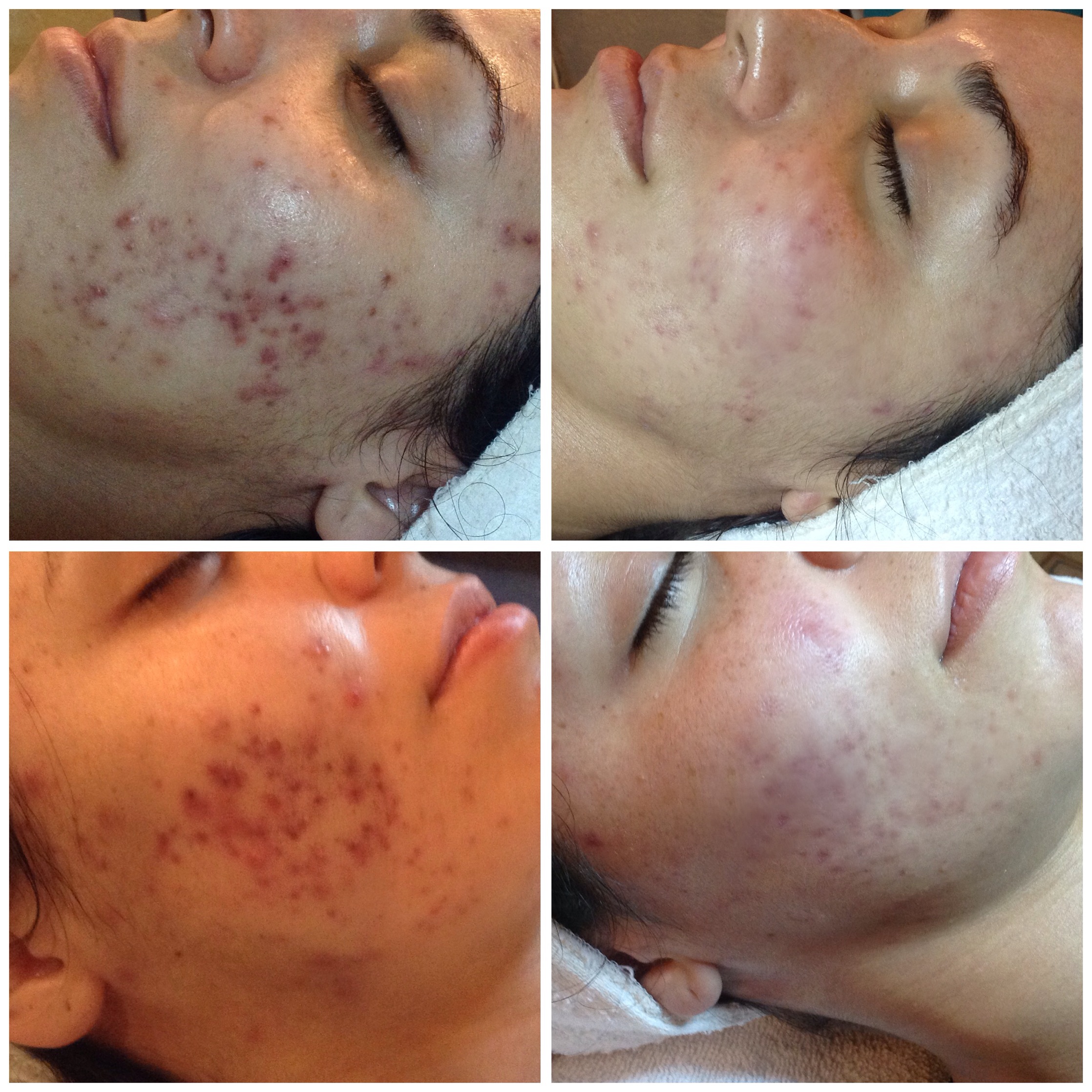 BEFORE AFTER 3 PEELS
This client received the Lira 3D Peel Series, 3 Peels scheduled 3 weeks apart. We continue to work on the lightening and removal of acne scars.
Transform Your Skin!
GG Skin Therapy uses unique products and treatments to help you gain healthy and long lasting results with our Acne Treatments in Albuquerque. Better yet, you will not only get rid of the acne but also have skin that looks fresh and vibrant. The result is a more confident and relaxed you as you walk out the door. Our Acne Treatment in Albuquerque involves the use of Ultrasonic Facials, Chemical Peels, Microdermabrasion, and Clear Touch Lite Therapy, which, combined with latest and physician-only cosmeceuticals , provide the best available acne care program. In fact, Acne Treatment in Albuquerque is much more effective than any topical acne treatments available in the market.
How Our Acne Treatment in Albuquerque Works
Our Acne Treatment in Albuquerque treats acne where it begins. The revolutionary skin therapy treatments uses plant based stem cell technology penetrating the layers of the skin to the depth reaching to our sebaceous glands. The reactors in sebaceous glands are altered, reducing the size of the sebaceous gland. Besides that, it reduces the production of oil and bacteria in the gland; and as a result, the number of acne lesions lessens. Acne Treatment in Albuquerque, using microdermabrasion and derma-needling reduces acne scars as well.
Light therapy is also used in our Acne Treatment in Albuquerque, with ultrasonic vibrations & LED light to deep clean, exfoliate & penetrate product. This therapy kills the bacteria that produce acne. Be ensured that it won't cause any pain or damage your skin.
How Acne Treatment in Albuquerque at GG Skin Therapy Helps You
With our knowledge and expertise, we help our clients to feel fresh and rejuvenated. And most importantly, we help them to feel beautiful. GG Skin Therapy has treated several severe skin conditions, including acne related problems. We believe in continuous education and apply cutting-edge treatments in the skin care industry. Apart from treating severe acne conditions, we provide top-notch treatments for sensitive, oily, dehydrated, and ethnic skin types. Our Acne Treatment in Albuquerque is customized to suit your unique skin type needs.
The products and technology we use in our Acne Treatment Albuquerque promotes overall health and wellbeing of the skin. To help you achieve optimal skin health we use products and treatments suiting the uniqueness of your skin. And to achieve the best possible result, we give our clients samples allowing them to "try before you buy" thus, ensuring that our Acne Treatment Albuquerque works for you.
Change Your Life with Our Acne Treatment in Albuquerque
If you are still wondering if our Acne Treatment in Albuquerque will work for your skin, we recommend you to take the next step ahead. Call us today to schedule a FREE consultation at (505) 720-0218. We also offer an online scheduler to choose the best time that works for you.
Acne Treatment Albuquerque